Welcome to Rex Travel
&
WELCOME BEALE TRAVEL CLIENTS!
Established in 1969, Rex Travel is a full service travel agency specializing in the sale of upscale leisure and special interest travel. Our experienced staff is well traveled and has visited a combined total of over 200 countries, on all 7 continents and sailed on over 60 cruise ships. We have traveled from Antarctica to Zanzibar, from Myanmar to Irian Jaya, from Iran to Positano, and everywhere in between. Although we are a small agency, the secret is out! We have been recognized in articles in the Wall Street Journal, Conde Nast Traveler, US Today and the Robb Report. We prefer to do business the old fashioned way. Getting to know our clients and hand crafting every itinerary on a custom basis to suit your individual needs. A quality travel experience takes time to put together. We need to build a relationship with you so we get a better feel for what you need and want in your trip. The best way to contact us if you have not worked with us before is by phone. Real relationships are hard to build by e-mail, facebook and twitter. We prefer to have a one on one conversation with you on the phone to make sure we really get a feel for who you are and the type of trip you want. Let us use our expert knowledge and travel experience to help you plan your vacation of a life time!
As of July 1, Beale Travel Service will be joining with Rex Travel. Beale was founded in 1910 with William Beale having a dream to assist those immigrating to America. From its humble beginnings as a one-person operation, the Chicago office has grown into a prestigious travel agency. For over 100 years Beale Travel Service has continuously served the needs of travelers from its location in downtown Chicago.
Beale Travel Service shares the same common goal of Rex Travel and has never forgotten its trademark of "excellent service". Combine this with the personal touch and sincere concern for the satisfaction of the client. Our goal is to provide our clients with the services they need and the kind of service that they deserve. We welcome all of the staff and clients from Beale Travel Service. We hope you enjoy your new home at Rex Travel.
Happy Holidays!
We wish you all the best for the holidays and a peaceful, happy and successful New Year! In observance of the holidays, our office will be closed on Wednesday, December 25 and on Wednesday, January 1. We will also be closing early on Tuesday, December 24. Our office will close on Tuesday at 2:00pm. Should you experience any difficulty traveling and need to reach us after business hours, please send an e-mail to: vacation@rextravel.com or contact the contacts listed in your itinerary. We will get back to you as soon as possible. Wishing you a great holiday filled with family and friends and a great New Year filled with health and wonderful travels!
Experience & Connections
In addition to expert, first-hand, knowledge, we provide our clients with connections that make a difference in the way you travel. Consider us your ultimate black book. We are members of Virtuoso, a by invitation network of the top luxury agencies in the world. We network with the top hotels, cruise lines, custom experience providers to put together once in a lifetime experiences on your behalf. When you work with a Virtuoso agency you will enjoy special perks and privileges, such as complimentary breakfasts, room upgrades and amenities.
We are also members of Four Seasons Preferred Partners, Ritz Carlton Stars, Orient Express Bellini Club and other top supplier programs. This power in numbers helps move you to the top of the upgrade list and these relationships help us get you sold out rooms and suites at peak periods.
Let us put these connections to work for you.
Under Construction
Pardon us while we put together our new web site. In the mean time, please give us a call and we are happy to work on your trip.
Four Seasons Preferred Partner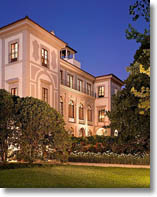 The Four Seasons Preferred Partner program is an exclusive, member only network comprised of the top travel agencies in the world. As a member, we share the same Four Seasons commitment for providing our clients with exceptional quality experiences and a premium level of service.
When you book your stay at any Four Seasons Hotels & Resorts with Rex Travel, you will enjoy special value-added amenities. You will always receive daily full American breakfast for two per room, an additional preferred partner amenity (valued at at least $85US per stay), and a complimentary one category room upgrade based on availability on arrival.
For information on any Four Seasons Hotels and Resorts, click here.
One of our favorite Four Seasons Hotels for summer, is the Four Seasons Florence, which offers a sanctuary in the middle of Florence. Stay in an art-filled Renaissance palazzo surrounded by a private centuries-old park. Located a short stroll from the Duomo and Uffizi and the hustle and bustle of the city center. Lounge by the pool in the garden or enjoy the spa after a busy day of sightseeing, shopping or exploring in the countryside.
When making your reservations with Rex Travel, your preferred partner amenities at the hotel will include: Daily full American breakfast for two people per bedroom (served through in-room dining or in the hotel restaurant - including buffets); a spa credit of $100 once per stay, per room; a one category room upgrade, based on availability upon arrival; complimentary high-speed internet access for all suite bookings.
Contact us to check availability. In addition to making your hotel reservation, we can assist in making your trip to Europe an experience you will never forget. Let us customize your itinerary and add private guides and drivers, and unique sightseeing opportunities. Whether you want tickets to the Uffizi or Accadamia to avoid the lines or want to go behind the scenes and see how gelato is made with one of the local gelato makers, we can make your trip special.
Please call us at 800 777 7729 to plan your trip to Italy or Click here for more details on the Four Seasons Florence.
TSA Secure Flight - New Airline Ticketing Rules
Due to new rules imposed by the US Department of Homeland Security and the Transportation Security Administration (TSA), we will now require the following information from you before we can issue an airline ticket to an international destination.

Name EXACTLY as it appears on your passport - the name on your airline ticket must now be an exact match as it appears on your passport. If you have a middle name or initial on your passport, that must now appear on your airline ticket.
Nationality
Passport Number
Date of Passport Issue
Date of Passport Expiry
Date of Birth
Gender
If you are flying domestically within the United States, we will need to verify your name as it appears on your Driver License OR Government issued identification that you will use to check in for the flight at the airport. Again, if your middle name or initial appears on your identification, your airline ticket will need to match. Your date of birth and gender will also need to be in your flight record.

If this information is not entered into your flight record, the airline has the option to cancel your reservation without compensation. In addition to the TSA rule going into effect on November 1, 2010, many of the airline has issued their own ticketing guidelines and most will not let us issue tickets without the information in the passenger record. In an effort to comply with the new rules, Rex Travel will require all of the above information in order to issue an airline ticket on your behalf. Should you not give us this information, we cannot be held responsible for airline cancellations and changes in fare due to name changes. If you are planning travel and your passport is NOT up to date, we would suggest that you have your passport updated well in advance of departure to comply with these new TSA guidelines.

Meet Rex Lancaster
Our Guiness Record Holding Traveling Teddy Bear
Congratulations to our little bear, Rex Lancaster! He successfully traveled the globe for a year to break the Guinness Book of World Records for the title of 'Most Traveled Teddy Bear'. Little Rex traveled 277,442 miles and was able to visit all 7 continents (in just under 8 months)! He broke the existing record by over 72,000 miles! Guinness has sent his 'official certificate' and our world weary little bear is sitting pretty in the office working hard to make sure you can travel in little Rex style! While Little Rex is in semi-retirement, pondering what his next travel record will be, he has been busy spreading his love to some of the people and countries that he was fortunate enough to visit during his travels through Kiva. He has given micro loans for projects in Kenya and Uganda, the "Stans", Asia and South America through Kiva. Rex has a budding portfolio with 100 loans to date. Rex invites you to join him in giving back to the places you have visited!
Passport & Visa Assistance
Remember if you are traveling overseas, or need a tourist visa for entry into a foreign country, most countries require your passport to be valid for at least 6 months past your return date of travel to the United States. If you need help applying for a new passport, renew a current passport or adding extra pages to your current passport, we recommend a company called Travel Document Express. They can assist you with your application and turn around your application with in 24 - 48 hours. You can reach them by phone at: 202 785 3250. They can also assist with Visa applications for entry into a number of foreign countries. If you prefer to process your passport on your own, you can find the current instructions on the government web site at: travel.state.gov. Please allow 3-6 weeks to process your passport on a regular basis by mail with the government. If you need your application processed on a quicker manor, then we recommend you use a service or pay a fee to expeditite your application.
AOL Mail Problems
If you are sending us an e-mail or request from your AOL e-mail account, you are probably not getting our response. For some reason AOL is blocking mail from rextravel.com. (Probably has something to do with the annoying 6,000 junk e-mails we get a day and someone abusing our domain to sell their garbage.) Since we are mere mortal travel agents and do not understand all this cyber geek stuff, we do not have a quick solution for the problem. We assure you we are not ignoring you. The problem is that many times we have no name or phone number with your requests so we have no alternative way of responding to you. If you do not get a reply to your e-mail, please give us a call so that we may assist you.
Boundaries Divide; Travel Unites
~ REX TRAVEL ~
100 N. LaSalle, Suite 2010
Chicago, IL 60602
Phone: (800) 777-7739 or +312 641-6633
Fax: +312 641-6641
Office Hours: Monday - Friday 8:30 am - 5:00 pm, CST
e-mail: vacation@rextravel.com
CST: 2065363-40
© copyright 2013, All Rights Reserved.
The use of, access to, and correspondence with this site is subject to certain terms and conditions


Content provided by Online Travel Content, Inc.